Have you ever been reading the Bible and suddenly thought, "Gee, that's odd"?
I have been going through the book of Numbers. In chapter 11 I read how unhappy God was with Israel for complaining about their troubles in the wilderness (especially about not having meat) even after God had freed them from the Egyptians. At the same time I was reading a book on lament in the Psalms and, of course, in the book of Lamentations.
I thought, "Gee, that's odd. In Numbers complaining to God is bad, but elsewhere lament (which essentially seems to be the same thing as complaining to God) is good. Which is it?"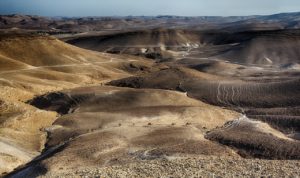 I think the answer is a lesson in our tendency to take things out of context. Understanding what's going on depends on seeing the whole sweep of the narrative in all thirty-six chapters of Numbers and the whole sweep of Psalms, not an isolated chapter or verse.
The first part of Numbers (chapters 1–25) tells the story of Israel's rising rebellion against God after crossing the Red Sea. Though they begin with obedience, the complaining in Numbers 11 culminates in Numbers 13-14. There all but two (Joshua and Caleb) of the twelve spies rebel against God's plan to enter the Promised Land because of the "giants" they find there. We see other examples of disobedience in Numbers 15, 16, 17, and 20. God promises that the whole generation will die in the wilderness except for Joshua and Caleb.
The second part of Numbers (26-36) begins with a census just as the first part did, but now a census of the new generation that will enter the land. In these last chapters we find hope and promise.
What we have then in Numbers 11 is not a universal prohibition against bringing our griefs, misfortunes, or even our complaints to God. Rather it is a piece of a story that denounces the ongoing life of rebellion and disobedience of Israel's first generation out of Egypt.
Complaints to and even anger at God (that is, lament) as found in dozens of Psalms are offered in a larger context of a book about wisdom and worship. In these Psalms of lament, the act of remembering God's past faithfulness triggers asking what in the world is going on in the present.
Even Psalm 88, the most despairing of all the psalms, is a valid expression to God even when we cannot see God on the other side. For it resides in the context of the whole book of Psalms in which we seek God's wisdom in the midst of both sorrow and of praise.
It may seem odd to complain to God in a context of worship. But that's not necessarily how God sees it.
photo credit: Pixabay, GidonPico (dead sea)