I stopped reading, watching, and listening to the news twelve years ago. Although I believe in the importance of an educated and informed electorate, the news just made me mad and agitated me. It was simply not good for my soul. In Stop Reading the News, Rolf Dobelli adds a myriad of other compelling reasons in a series of short chapters. Here are a few.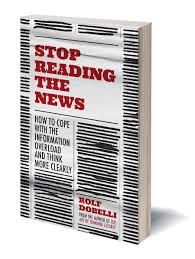 News is irrelevant. Since news operations are out to make money by capturing eyeballs and eardrums, they do not focus on what's important but on what gets attention. Crashes, explosions, murders, earthquakes, however, matter little to our individual lives or even national life.
News distorts reality. What's a bigger problem—terrorism or suicide? We are about 800 times more likely to die by our own hand than by terrorism. Yet what do we hear about more? Likewise we hear lots about shark attacks, politicians, banking collapses, the Kardashians. We hear little about nurses, teachers, diplomats, ocean acidification. And which of those two groups is more important?
News encourages terrorism. Before Gutenberg, before mass media, there was no terrorism. There were attacks, sabotage, and murder, but the intent was to inflict strategic damage, not manipulate public opinion.
Dobelli offers more including how it disrupts our peace of mind, leads us to wrong conclusions, and wastes our time when we could be doing something more productive.
Before giving his reasons, he provides practical suggestions for cutting out the news, including a "soft option" and one for going cold turkey. He also deals with objections: How will I find out when something important does happen? Won't I feel embarrassed when people ask me what I think about a new event? Isn't being informed important for democracy?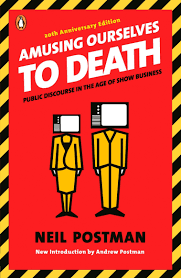 Are there alternatives? Yes, he says. Read long-form journalism and books. If we do we'll be much better informed citizens. Another constructive suggestion is to start "news lunches"—meeting one to one or in larger groups where one or two people to take 15 minutes to focus on one thing they are working on or thinking about. Then discuss.
The news enterprise (shouldn't we really call it "the current events entertainment industry"?) is broken–exacerbated by social media, fake news, foreign subversion, the politics of outrage, the lost art of compromise, talk radio entertainment, and the loss of the fabric of community locally and nationally. Dobelli's analysis does not have the depth or insight of Neil Postman's prophetic book, Amusing Ourselves to Death. But surely he is right when he says, "News is to the mind what sugar is to the body: appetizing, easily digestible and extremely damaging" (p. 16).
It's time to change our diet.