We all know the story.
Saul persecuted the early Christians until, in a flash of light from the sky, God knocked him off his horse. He heard a voice call to him, "Saul, Saul, why do you persecute me?" And who was speaking? "I am Jesus, whom you are persecuting." And that's how Saul turned from tormenting Jesus Followers to being their foremost missionary.
But there's one detail in this tale that is wrong. A mistake. The Bible never says it. Yet we have retold this error over and over. What's amiss?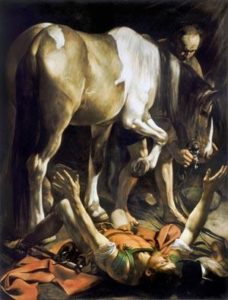 There was no horse. Acts 9 doesn't mention it. What about the other two times in Acts that Paul tells his story of meeting Jesus? No horse. Maybe it's in one of Paul's letters where he gives a bit of his life story? Sorry. No horse. Even reputable writers like Thomas Cahill perpetuate the myth.*
Why do we keep insisting on a horse? No doubt something is at work here similar to the adage about repeating a lie often enough that it becomes the truth. But there may be another reason. Religious artists over recent centuries have depicted Paul with a four-footed friend, Caravaggio chief among them. So the image fixes itself in our minds.
Admittedly, not much hangs on whether Saul rode a mighty steed or even a bedraggled burro. No decisive doctrine is cast down. No historical record is blinded.
What it does tell us is that we must read the text. And read it carefully. Just because we think the Bible says something, doesn't make it so. Even if we've heard it a hundred times, we need to read slowly, ask good questions, pay attention, write down what we see, be quiet, and listen.
If we do, we might even hear the voice of Jesus.
————–
*Thomas Cahill, Desire of the Everlasting Hills (New York: Doubleday, 1999), p. 123.