Matt Ruff's fun supernatural novel, Lovecraft Country, is an homage to H. P. Lovecraft and his spooky, weird pulp fiction of the last century. Yet it is also an incisive critique of Lovecraft's bigotry.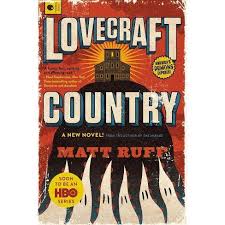 Set in Chicago in 1954, the novel follows a series of exploits of an extended family and their friends as they encounter mid-century racism while traveling, while trying to buy a house, and while trying to get jobs. These characters are very aware of the power dynamics at work around them, but they nonetheless act with resolve and creativity to achieve their ends. In ways these are classic underdogs—unlikely and under-resourced people who somehow manage to succeed.
The encounters with the police, with realtors, with employers are vivid and real even as the paranormal and extraterrestrial weave in and out of the narratives. At the beginning of the second episode, for example, we get one of the best, briefest explanations of redlining in Chicago in the 1950s to be found. And then there is the fun—the tributes to Lovecraft's genre, to Dr. Jekyll and Mr. Hyde, to fifties-era space comics, and more.
Ruff is a master of comic irony, of flipping the script, of teaching us our own history without our even knowing he has done so.