I'm reprinting here a review of one of my favorite books from a few years back. Enjoy!
Benjamin Dreyer is the Stephen Colbert of grammar, style, and punctuation—informative while always being cheerfully acerbic.
When he tells us in Dreyer's English to never use actually, it is "because, seriously, it serves no purpose I can think of except to irritate." When offering examples, Dreyer also gives us cause to smile. Honorary titles should be capitalized, as in, "Please don't toss me in the hoosegow, Your Honor."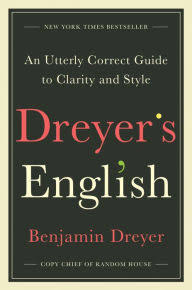 You'll have fun with this book whether or not you care or know that "the verb in a relative clause agrees with the antecedent of the relative pronoun"—not least because Dreyer hates that stuff too! Even as a decades-long copyeditor he still has to look things up in dictionaries and style guides. We should too!
His stance toward the nature of rules in English is one I have long advocated to authors. They are helpful, but don't take them too far because spoken English profoundly affects written English (eventually, usually). And he chirpily breaks, bends, and bruises them all the time—once, for example, suggesting we "give it a good think," right there in front of God and everybody.
Memorable tips abound. How do you tell if a sentence is passive (with the likely result of changing it to active)? If you can add "by zombies" to the end. "The floors were swept, the beds made, the rooms aired out." Yep. Passive.
And here I can now confess that I could never keep straight the rule about restrictive and nonrestrictive commas because neither can Dreyer. But he has a dandy new name for it that makes all the difference.
Use the "only" comma, as he calls it, when the noun in question is unique. So "Lincoln's eldest son, Robert, was born in 1843" because Lincoln only had one eldest son. But if more than one son could be under discussion and must be named for clarity—no comma. Thus "Lincoln in the Bardo concerns Lincoln's son Willie."
He also festoons his text with, well, I wouldn't call them explanatory footnotes. They are more like asides. After offering three acceptable options for use of a possessive he concludes with, "You choose.†" At the bottom of the page we find, "†Psst. Take the middle option."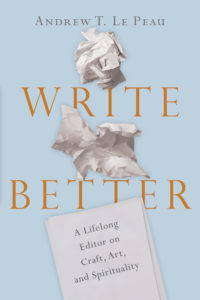 What every one of you is wondering, of course, is how Dreyer's English differs from my Write Better (available October 2019, since you asked). Dreyer's book is a wonderful journey into the details of punctuation, grammar, and use of numbers, augmented by many lists of misspelled, misused, and miscellaneous words—all whimsically annotated. I say almost nothing about these things.
My focus is on larger strategies for writing which Dreyer does not —such as, how to find openings, focus on readers, develop a structure, battle writer's block, be persuasive, make a compelling title, increase our creativity, use metaphors, and say more by saying less. The last part of Write Better considers how the act of writing affects our relationship with God.
The two books should be enjoyable and valuable companions.