Over my forty years at InterVarsity Press I crossed paths with J. I. Packer a number of times. This soft-spoken and steady British theologian, who died this past week, became something of an accidental celebrity when his substantive book Knowing God suddenly became a best seller. When, as a newly minted InterVarsity campus staff member in 1973, I learned that IVP sometimes gave free books to staff, I made sure they knew that's the book I wanted. I drank it in.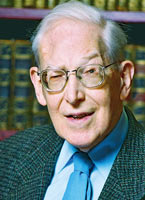 Once I recall him talking about his concise writing style. "Packer by name; packer by trade," he responded. I could tell he enjoyed saying that, and I got the impression he used the line often.
On another occasion Jim reprimanded me and IVP for dropping the dedication to his wife in our latest printing of Knowing God. I assured him that wasn't possible. He assured me it was. He was right. I checked, and somehow it had been dropped. We fixed it next printing.
I introduced him two times when he was a speaker, and once ran him on an errand for cookies for the group of Regent students he was hosting. I was impressed by how he took personal responsibility to make sure his students were treated with genuine hospitality.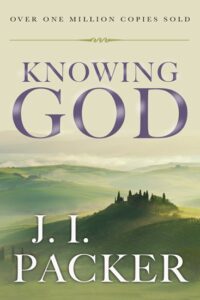 Once several of us took him to lunch, and as we ate IVP publisher Bob Fryling posed the question, "How would you describe IVP among the many Christian publishers that are around?"
Immediately Jim responded, "Some publishers tell you what you should believe. Other publishers tell you what you already believe. But IVP helps you to believe." We were amazed at the instantaneous response, but he took it as par for the course that he could spout off such aphorisms on demand, and gladly gave us permission to use the line publicly.
Perhaps my most memorable encounter was when I got a glimpse into his humanity. At a conference I was assigned the task of chauffeuring him and another famous author. As these two good friends talked in the back seat, they began sharing intimate updates on their similar experiences of grief and difficulty—all as if I were not there. I never forgot that no matter how elevated we might be, we are not immune to life.
And I never forgot the joy and good humor Jim always exhibited in every circumstance.