In working on Write Better (due out October 2019), I asked some other authors about their experiences with writer's block, especially one unexpected form. Having written one book, authors often find major hurdles in finishing a second, especially if the first was successful. I call this Second-Book Syndrome. I couldn't fit all of Alan Fadling's helpful comments in the book, so here, with his permission, is more of what he told me.
I really did wrestle with my second book, An Unhurried Leader. Some of the dynamics were probably unique to me, and some are, I'm sure, common to many, such as a major vocational transition.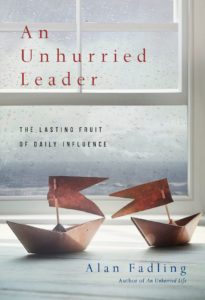 I also had to deal with the unexpected success of the first book, An Unhurried Life. Where I could have simply been grateful and encouraged by a CT book award (which I was, actually), I also let it become a point of fear and anxiety: "How in the world do I top my first effort? How can my second book be anything but a disappointment to readers of the first?"
I overcame this by deciding that my goal was not to top my first effort, but simply to share some important insights that had meant a lot to me. It helped me to think that writing this second book was something I wanted, and maybe even needed to do. Instead of focusing on the imagined response of future readers, I focused on sharing my stories, my insights, my experiences, trusting that they would be helpful to those future readers.
I also dealt some of the resistances I felt writing book one and feel now writing book three with my wife. I shared the paragraph below with a friend who is an aspiring writer.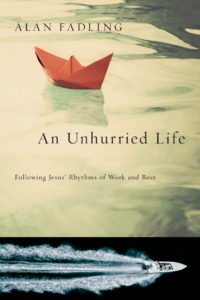 "My reasons for not writing are legion. I don't feel like it. I don't have anything to say right now. What I have to say won't help anyone. I don't have a good focus for my writing. I'm in too busy a season to write. I'm in too noisy a place to write. There is too much to write, so I don't know where to start writing. No one will want to read what I'm writing. No one will want to publish what I'm writing. Ad infinitum."
Fear. Anxiety. Self-doubt. Insecurity. Perfectionism. All of these are resistances I often have to press through to write.
The last thing I'll say is that I find a lot of help in Dallas Willard's encouragement to release outcomes to God. It is my attachment to outcomes, imagined as amazing or imagined as dire, that gets in my way a lot. Usually, getting unstuck ends up being a matter of being in the present moment, being in the Presence, and being focused on the present task of actually writing.
Alan Fadling