Years ago some Jewish friends invited us to their Seder meal for Passover. Their home was prepped and we, along with other Jewish and Gentile friends, enjoyed the full three-hour event.
My wife, Phyllis, thought, what a great thing! Why can't we share some of our Christian heritage in the same way? So began our annual Advent Celebration.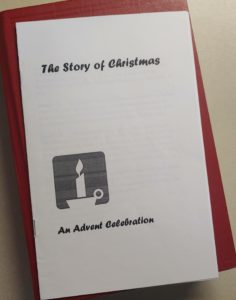 Once each December we have invited about twenty friends, neighbors, coworkers, and their children to our home for an evening. Since usually they don't all know each other, we take a few minutes for everyone to introduce themselves and how they are connected to our household.
We then treat this mix of Christians and others to a simple dinner of soup and bread bowls. (Once I tried to change our normal offerings of chili, clam chowder, and French onion soup—but was met with stiff resistance to such a break from tradition.)
After an hour of good conversation and food, we gather in our living room for a simplified version of Lessons and Carols. We handout homemade booklets which tell the Christmas story, broken up into about twenty brief readings, going in a circle so each person participates by reading a section aloud to the group.
This is punctuated by carols which also tell pieces of the story. We sing "O Little Town of Bethlehem," "Angels We Have Heard on High," and "We Three Kings," closing with "Joy to the World." A good friend accompanies us on piano though once, to our delight, we wrangled a string trio to join us!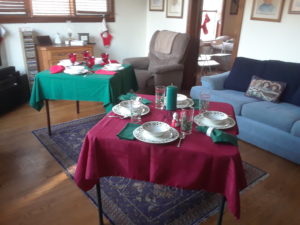 In the middle we pause to let people share Christmas or holiday memories and what it all means to them. Some talk about family traditions and some about their faith experiences. The evening closes with dessert and coffee, sharing cookies and other treats that our friends have brought.
Sometimes over the twenty-five years we've held this event, we have followed this up with an invitation to join us for a six-week study of the life of Jesus during Lent. In a society that connects less and less to Christianity, we have found that Advent (Christmas) and Lent (Easter) are still generally familiar to people. They tend to respond positively to the invitation to join us in our traditions.
If you are interested, I'd be glad to send you the text of our Advent booklet that we use.
In the meantime, we wait with you for the coming of Messiah.