It's not too early to think about that graduation speech you are going to give next May. David Brooks has some ideas about what you should not say.
Early in The Second Mountain, David Brooks delivers a devastating critique of the hyper-individualism one usually hears in commencement speeches: Be yourself. The future is limitless. Look inside for truth. Follow your passion. This, Brooks says, is the counsel of despair for most college students have no idea who they are, what they are passionate about, or how to go about making a future. Such advice rather than energizing them, puts the full responsibility for their lives on their own shoulders which cannot bear the weight.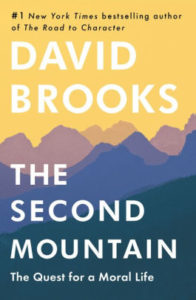 The image of the second mountain suggests what Brooks has in mind instead. The first mountain is that of personal achievement, of individualism, and personal happiness. But this is often followed by a descent into a valley of moral, career, or financial failure—or just a vague depression. We ascend out of the valley to the second mountain via self-sacrifice, committing ourselves to something bigger than we are alone.
As the book progresses, we learn of Brooks's own valley—divorce, children leaving the nest, living by himself in a small apartment, and his crushing loneliness. On his way out of the valley Brooks created Weave: The Social Fabric Project of the Aspen Institute. We thus hear a number of stories of people and organizations building community in a variety of ways, large and small, to repair or broken society. We also hear of his journey into a community of faith, and the people who walked this path with him such as John Stott and the woman he eventually married.
After his critique of individualism, the book focuses on major four commitments that are larger than ourselves—vocation, marriage, philosophy and faith, and community. Along with his introductory chapters, the last two sections are the strongest in the book.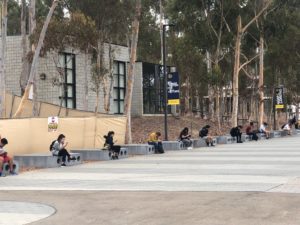 In his opening to The Second Mountain, David Brooks says he is correcting his previous book, The Road to Character. I think, however, the two are simply companion volumes. While the earlier book focuses on the valid and important work of character development that each of us is responsible for, Brooks's newest book highlights the importance of community for who we are.
I also found a kinship between this book and Ben Sasse's, Them. Our increasing isolation from one another has led us to gravitate toward twisted forms of connection. As Brooks says, tribalism is the evil twin of community. The first is defined by who is our foe. The second by who is our friend. Both Brooks and Sasse emphasize the need to renew community and social networks (to actually get to know people face to face) to break down the hate that unnecessarily divides Americans from Americans.
—–
Photo credit: Alan Sun