One of the main problems writers have is that we keep getting in the way of our own work. We fret if our ideas are any good, if our writing is stale, if anyone will enjoy it or be moved by it. Thinking about ourselves in this way can bring our work to full stop.
How do we overcome this? Instead of treating our writing as an avenue of self-expression or a channel for our unique creative impulse, we treat it like a job. We take the self-focused emotion out of the equation. As Steven Pressman says in The War of Art, we act like professionals. "The professional loves her work. She is invested wholeheartedly. But she does not forget that the work is not her." (p. 88)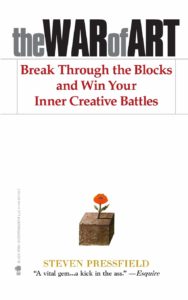 Our focus is not on ourselves but on production, on the words, on the craft. As professionals we commit to producing so many words per day or per week, and then we write them. We schedule deadlines for ourselves and meet them. If what we write is bad, we work at it more. If it is good, we improve it still further.
Yes, art matters. But it doesn't arise by aiming at it. "The professional dedicates himself to mastering technique," says Pressman, "not because he believes technique is a substitute for inspiration but because he wants to be in possession of the full arsenal of skills when inspiration does come." (p. 84) Professionals engage in deliberate practice.
Writing as a form of therapy has its place. Journaling can help us work out a problem or deal with our past. But if our goal is to write something for other people to read, we have to forget about ourselves, be cold blooded and objective. We must listen to criticism as if it were about someone else's work. Writing can't be about us. It has to be about the writing.
Want to beat writer's block? Act like a professional.