Everyone who has tried to get a book published recently knows the question every publisher will eventually ask: "What's your platform?" That is, how well known are you? Will you be able to let lots of people know about your book once it's published? Do you speak to groups regularly, and if so, how many? Do you have a prominent professional position or a large following in social media? If you don't, publishers aren't usually interested.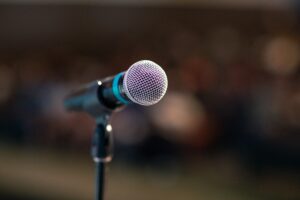 Once upon a time, publishers could successfully sell books of not-so-famous authors through the thousands of bookstores spread around the country. But with the rise of e-sales and the resulting demise of two-thirds of all brick-and-mortar book shops, publishers have had to rely more and more on authors to make a book known.
But what if the content of your book means you need to remain anonymous. Maybe you have a memoir in the works, but you don't want to directly expose sensitive information about those close to you, information like past addictions or trauma.
Maybe (more intriguingly) you are a whistleblower. If your identity in a particular organization were to become public, then you might expose yourself to retaliation. Nonetheless, publishers want the author out there in person, using your real name to promote the book. Otherwise they won't touch the project.
What's the solution?
One option is to find a coauthor with a platform who could be the public face for the book. Ideally your coauthor would have some credentials in the main topic of your book. If addictions or trauma is involved, then teaming with a psychologist might make sense. If corporate misdoings are the focus, then a business writer could work. Having a coauthor with an established platform can even help you get published even if you don't need or want to be anonymous.
Pairing with someone who will do all the promotion and who will already be well-known could mean your coauthor gets more than half of the royalty—even if you write half or more of the book. But hopefully the book will do at least twice as well as an anonymous solo effort. So you should break even or better.
In fact, having a coauthor could make the difference between being published and not being published at all.
—