As Different As We Think: Catholics and Protestants (4)
Conversionism is one of the four main characteristics of evangelicals that British historian David Bebbington has identified.* Salvation must be appropriated through personal faith that comes via repentance. This event which takes us to an entirely new level spiritually looms large in the evangelical psyche—so much so that the continuing journey of sanctification often takes a backseat. Not so for Catholics. That journey is what our life in Christ is all about.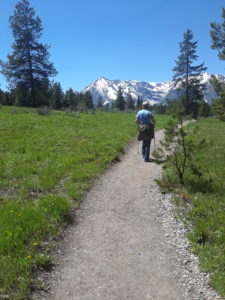 The emphasis on conversionism has had another effect. It has made evangelicals more individualistic than Catholics, who are oriented more toward the community of faith as a primary means for drawing closer to God. Certainly American individualism has had a tremendous impact on American Catholicism as well. American Catholics are much more willing, as mentioned earlier, to disagree with and act contrary to the Church's teachings than Catholics in many other countries. Nonetheless, when it comes to spirituality, it is primarily a matter of the community.
Analogical thinking and the community meet on a journey, for Catholics, in the liturgy and the sacraments, of course. By means of symbols acted out in the midst of the gathered people of God, we understand more than intellectually who we are in Christ. We experience it spiritually. Liturgy itself is a journey—a year-long journey that tells the story of Jesus' life and ministry as well as that of the newly born church. This journey is punctuated by the Advent journey to Bethlehem and the manger, and the Lenten journey to Golgotha and the empty tomb.
The journey that Phyllis and I began when we became engaged led us down a Protestant path. Thinking more like Protestants than Catholics at the time, we decided we couldn't in good conscience sign the document. "It is the Church's wisdom," Father Pendergast told us, "that these things should be decided before the wedding so they don't interrupt or trouble the marriage later." He and the Church were probably right.
Yet in the more than thirty years since we were married, that has not been the end of the journey for the two of us. Another path was also in store. Over the years we have befriended individuals and connected with organizations that would like to bridge understanding between Catholics and Protestants. We continue to have significant theological differences, but we have learned to understand that some (not all) of our differences arise from issues other than theology.
In addition, our daughter Susan attended Boston College, where she sat at the feet of professors like Peter Kreeft (a Catholic who has authored many books for evangelical publishers) as well as a number of Jesuits. After graduating, she spent two years in Peru working with Catholic missions. When she returned she decided to become a Catholic. "It's my spiritual home," she told us. "It's where I feel the closest to Christ." As parents we have always prayed that all of our children would be drawn to Christ. That prayer has likewise been answered for our other children, but in Protestant contexts.
David Tracy thinks the analogical and dialectical imaginations are complementary, that it is beneficial for both traditions to work together.** Each has something to offer and each saves the other from certain dangers. For Protestants and Catholics, that seems about right.
*David Bebbington, in his seminal study Evangelicalism in Modern Britain: A History from the 1730s to the 1980s (Baker, 1989), defined evangelicalism by identifying its four distinguishing marks: conversionism, activism, biblicism, and crucicentrism.
**David Tracy, The Theological Imagination (Crossroad, 1981), pp. 420-21.
—
This article was originally published in Books & Culture, March/April 2010, pp. 33-35. I am serializing it here for the first time in four parts.
photo credit: Andrew Le Peau