What Are We to Make of Suffering?
A Lenten Reflection
When we are struck by illness, disappointment, depression, or when we are sinned against by violence or injustice, we can struggle to believe God, trust God, or feel God's love.
Philosophers and theologians have done little better in the face of such pain and sometimes horrific evil. Yes, we can "explain" it by reference to free will. That is, we can't truly love God or truly be in his image if we don't have free will—which also opens the option of rejecting God, rejecting love, and choosing what is wrong. And I believe in free will and this line of thought.
Nonetheless, I still wonder: Is all the pain and suffering worth that? Can it justify the good? Does the possibility of love balance out the scales of senseless torture, murder, violence? I have a hard time seeing how we could say yes. Ultimately, I wonder, Wouldn't it have better for God to not create at all rather than create a world with the horrific and sometimes massive amount of cruelty and death?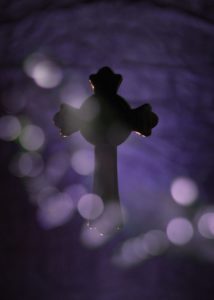 One thing that ironically gives me a glimmer of comfort is that the Bible doesn't attempt to answer those sorts of questions the way so many try. When Job made such a challenge to God, God did not respond with the kind of answers we or Job might want. Instead he says to Job, my wisdom is seen in how I made the immensities and intricacies of the heavens and earth. Can you trust my wisdom for everything you don't see?
In the New Testament, we don't find answers either as we might want. But God does respond. He enters into the evil, sin, and death, of the world. He experiences the worst his own world can throw at him. At least, then, he knows what we have gone through. But in addition to that he responds to evil by fighting it, and he calls us to do the same.
We find in the Bible no superficial, "Oh, there's a reason for everything," or a flippant, "The good makes up for all the suffering." Such responses would be insulting to anyone who has experienced deep pain. God takes evil much more seriously than that.
What we find is much more profound. During Lent, therefore, I consider that when it comes to evil God didn't answer–he acted. In the cross is God's fullest response in the battle against Evil and the Evil One. There he deals a death blow to Death. And in that I find hope as we look to the day when he will wipe away every tear and set all things right.
—
photo credit: joaogbjunior Pixabay