A Lenten Reflection
Who killed Jesus? This question (and some unfortunate answers) have led to malicious, deadly attitudes and actions.
The Jewish leaders, who had been anxious to do away with Jesus for a long time, finally had the opportunity to put him on trial—even if it was in the dead of night in a kangaroo court. But because they had no authority under Roman rule to enact capital punishment on the charge of blasphemy, they instigated a mob to pressure Pontius Pilate. He then had his solders execute Jesus by crucifixion.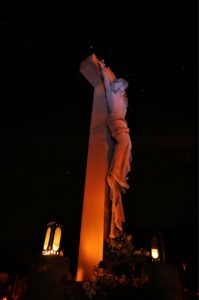 Though it was the Romans who hoisted Jesus on a cross, many Christians down the centuries have harbored anti-Jewish sentiment, labeling them Christ killers. Pogroms, persecution, cruelty, and the holocaust have been the terrible results.
All this comes not from a misunderstanding but from willful blindness. Did the Jews kill Jesus? Paul makes it clear this is completely wrongheaded.
"Jews and Gentiles alike are all under the power of sin," he tells us in Romans 3:9. Jews and Gentiles killed Jesus. No one can claim moral superiority. None is guiltless. "Where, then, is boasting? It is excluded" (Rom 3:27). Both groups have rejected God and his Son. Nonetheless, because of God's love, "Christ died for the ungodly. . . . While we were still sinners, Christ died for us" (Rom 5:6, 8).
Who killed Jesus? We did. We, sinful Jews and Gentiles, put him on the cross. Those first-century Jews and those Gentiles who condemned and crucified Jesus stood in our place, symbolically representing us and our sin. At the same time Christ stood in the place of all of us who were not just bystanders but who were his executioners.
Thank God that Jesus prayed to the Father to forgive us. We didn't know what we were doing.
—
photo credit: PublicDomainPictures Pixabay