We live in a divided society. We are divided about politics, about family values, about religion. The very fabric of our culture seems at risk of being torn apart. But there is one area of disagreement that is more intense, more divisive than any other.
That is whether or not we should type one space or two at the end of a sentence.
Watch out! Feelings run so high that in an altercation you could easily lose the thumb you use to hit the space bar.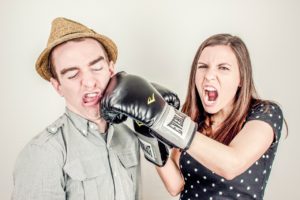 How do I know? Microsoft recently announced that the default spacing in Word was being revised from two spaces to one. I posted that on FaceBook and asked folks to vote for their preference. I got a lot of good-natured responses, nonetheless, with a lot of feeling.
"Two. My liberty is being assaulted. 😊"

"The first good decision Microsoft has made."

"My platform will always be pro Two Spaces. Just like I am pro TP Roll Goes Over Top, and pro Please Do Not Hack Up the Butter/Cream Cheese. There is a right way to load the dishwasher, and a right way to end your sentence."

"I've just emerged from another Facebook fracas over this. I can't imagine why anyone still uses two spaces, but people get really emotional about their God-given Second Amendment right to hit the space bar twice after a sentence."
How did the vote turn out? It was very close.
27 voted for one space
22 voted for two spaces
What I found most interesting, though, was that over 90% of authors and publishing professionals in my small, unofficial, unscientific survey voted for one space. Why? They are more likely to be familiar with the principles of type layout and design. As several commented, two spaces is a holdover from typewriters which use non-proportional fonts like Courier.
Here's how Jennifer Gonzalez explains it: "Back when we used typewriters, every character was given the exact same amount of space on the page. That meant the letter i was given the same amount of space as the letter m, even though it clearly didn't need it. This is called monospaced typesetting and it's, well, spacey. We needed that extra space between sentences to make it easier to see the beginning of new sentences."
As someone commented on my post, that's how typesetting has worked for generations. The professionally produced books, magazines and newspapers you've read "have had only one space after a period your entire lives!"
A number of people seemed to agree that one space was correct but force of habit and early training has made it nearly impossible for them to change. That's my situation. I try to do one space but often don't. If I remember when I'm done with a piece, I do a global search to replace two spaces with one. Since I often forget, I am sure that if you look through my previous blogs, you will find much inconsistency. Such is life . . . at least my life!
—
photo credits: Pixabay RyanMcGuire (argument); Pixabay Wild0ne (typewriter)