December 21, the darkest day of the year, is my wife's favorite. Why? Because it means that now every day will have more and more light.
Scholars don't know and the Bible isn't clear about what time of year Jesus was born. Nonetheless, December 25 is appropriate because (in the northern hemisphere at least) we are at the beginning of a period of increasing light each day. Jesus' birth is associated with light in the Bible, and not just with the famous star the wise men followed. When the angels appeared to the shepherds, "the glory of the Lord shone around them" (Luke 2:9). But there is more.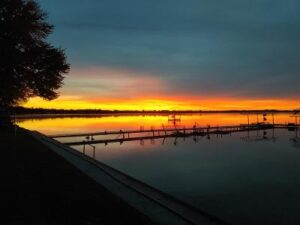 A few days later, when Mary and Joseph present the infant Jesus in the temple, they were met by an old man named Simeon. God had promised him he'd see the Messiah before he died. When he saw the trio he took Jesus in his arms and said:
"My eyes have seen your salvation,
     which you have prepared in the sight of all nations:
 a light for revelation to the Gentiles,
    and the glory of your people Israel." (Luke 2:30-32)

The light to the Gentiles was a reference to the Servant of the Lord promised by the prophet Isaiah (42:6). Not only was he to be a light to Israel but to everyone.
John's gospel makes the same connection, describing Jesus as "the light of all mankind. The light shines in the darkness, and the darkness has not overcome it." (John 1:4-5)
It is easy to focus on the darkness this time of year, especially with all the troubles we see around us. And those are real. Yet even in darkness we hold in Christ the hope that each day we will have more and more light.

—
Photo credits: Sunrise (Andrew Le Peau); Milky Way (Pixabay, Felix Mittermeier)