The Old Testament presents true Judaism as tenaciously monotheistic. No god compares to the One God who is in a category by himself. In fact, the gods of other nations are actually no gods at all. Worship of them is absolutely forbidden.
Then how could the Jews who first followed Jesus believe he was the divine Son of the Father, and still defend the monotheism that is so strongly proclaimed in the Old Testament? That was the challenge John took up in his gospel.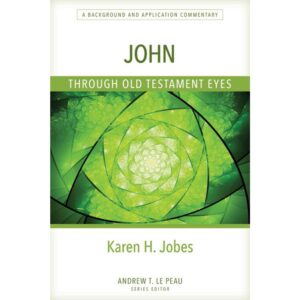 Karen Jobes keys in on this central question in John Through Old Testament Eyes, the second in a set I am the series editor for—the Through Old Testament Eyes New Testament Commentaries. One way John presents Jesus as divine is by using Old Testament metaphors, images, and symbols that are said to be characteristic of God (such as judge, king, and shepherd). But John does not collapse the divine Father and Son, suggesting these are simply two names for the same person. After all, he (and Jesus) say clearly that the Son was sent by the Father.
How then does John maintain his monotheism? One way, as Jobes writes, is by redefining what monotheism means—as the unity of the divine Father and the Son. They are, for example, one in will and one in glory.
This is not the only question Jobes addresses. She ably covers the entire gospel, its structure, and various themes. All the while she emphasizes the richness of Old Testament background, motifs, and literary patterns that illuminate the fourth gospel.
Personally, I have found this approach most rewarding. When puzzling through difficult passages in the New Testament, I often find that the Old Testament roots of those sections provide the "aha" moments that resolve the mystery.
The gospel of John is often the first encounter that people have with the Bible. As a college student, like so many others, Karen Jobes was transformed by it. That love for the book is wonderfully married with the skills of a seasoned scholar, resulting in this readable and enlightening book.