Revelation is perhaps the most fascinating and least understood book in the whole Bible. There are more flawed interpretations than warts on a frog, bumps on a log, fleas on a dog, clichés in a blog, or rants from a demagogue.
When Hitler and Mussolini threatened the world, people thought Revelation predicted it. They were wrong. When the Middle East oil crisis hit in the 1970s and then Saddam Hussein occupied Kuwait in the 1990s, people thought those were in Revelation. They were wrong. This list goes on, and they were wrong.
Part of the problem is we jump right to detailed interpretation. Where will the battle of Armageddon be fought? What nations will be involved? And most to the point, when will it happen? We are consumed by curiosity about the future and end up depressed about all the terrible things we think will happen.
But we can overcome these wrong-headed approaches—by starting where the author of Revelation started. This New Testament writer was saturated with the Old Testament. In fact, Revelation is thicker with Old Testament images, motifs, metaphors, symbols, and literary patterns than any other New Testament book. If we don't know and understand the Old Testament, the book of Revelation will forever be a mystery.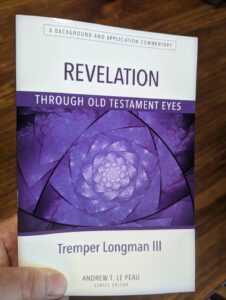 That's why, as series editor, I was so pleased when Old Testament scholar Tremper Longman III agreed to write a volume on this enigmatic New Testament book for the Through Old Testament Eyes commentaries. Focusing our attention on this background roots us solidly so we don't fly off into wild speculations.
Longman offers important verse-by-verse coverage, yet one of his emphases I especially appreciate is how key Old Testament books shape Revelation—Daniel, Psalms, and Ezekiel.
And consider Exodus. Why all those plagues in Revelation? They bring to mind those of Exodus whose story of rescue dominates the Old Testament. That redemption comes to completion in Revelation.
The last half of Exodus focuses on the tabernacle, the precursor to Solomon's Temple and to the heavenly Temple which comes down at the end of Revelation. This signifies God's presence and rule over the whole earth.
All this allows us to clear away pointless conjectures and see what the book is really about. Which is, as Tremper puts it so clearly:
Despite present trouble, God is in control, and he will have the final victory. God wins in the end even though his people at the present live in a toxic culture and are marginalized and even persecuted. This leads to a secondary theme. Hope that leads to perseverance. Starting in the letters to the seven churches but continuing through the visions, the author's purpose is to engender hope in the hearts of his Christian readers so that they will have the resolve to withstand the turbulent present. (p. 14)
Unlike the way we often read Revelation, I find this truly encouraging.