What does it mean that we are made in the image of God? Over the centuries many options have been proposed for the meaning of Genesis 1:27. Is it consciousness or self-consciousness? Or the ability to think and be rational? Maybe it is creativity, since God is obviously being very creative in Genesis 1? Could it be our spiritual nature, the ability to relate to God?*
The problem with all of these (and many other proposals) is that they are also all true of angels. Then in what sense are humans uniquely in God's image?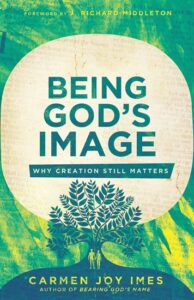 Carmen Joy Imes, in Being God's Image, lands exactly where Genesis 1 does in the very next verse. God gave the first man and woman in the garden a calling to be fruitful, to multiply, and to subdue the earth (Gen 1:28). The image of God is not a character trait nor an innate capacity. Rather it is a role, a responsibility. God calls us to be his vice regents for the world he has created.
We are not to dominate or abuse nature but to steward it. As Jesus expresses in his parable, stewards are given something that belongs to another and are made responsible to not just protect it but to use it as the owner intended (Matthew 25:14-30).
Through this lens, Imes explores what it means to be human in work, in community, in suffering, as well as in relation to creation and to the Creator. What difference does being God's image make for the significance of our bodies and meaning in life? All these topics Imes considers in a book that is wise, readable, and encouraging.
—
*See my previous post here on this topic.