Coauthors have a problem.
How do you speak about yourselves in a book or article? Who is the "I" in your piece? Do you always use "we"? But what if you are telling a story of one author but not the other? Do you always say "I (Andy) once . . ."? But that can be awkward and intrusive.
In an appendix to Write Better I offer four options for how to handle this perennial problem. Each has its advantages and disadvantages. A recently coauthored book by Randy Richards and Richard James, Misreading Scripture Through Individualistic Eyes, offers a creative fifth option: Use "I" throughout and never identify which author this refers to.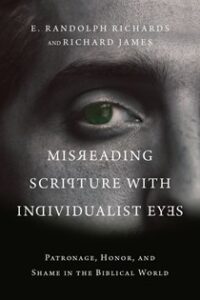 The advantages are many. Readers don't trip over the "I (Andy) once . . ." formula. Each author can freely tell their own stories in first person. This is also less awkward than one author using first person and the other being referred to in third person ("Once Andy . . ."). It likewise avoids the oddly impersonal option of both using third person.
But doesn't Richard's and James's solution create confusion? How can you mix two different lives as if they were one? Because of that, this solution won't work for many coauthored books. But it works in this case for a couple reasons they mention in the preface.
First, in this book half the chapters were not written by one author and the rest by the other. Rather the two were constantly sending all the chapters back and forth, drafting, adding, deleting, revising, reworking.
Second, and I think this is key, the stories they each tell are in a narrow range. They only have to do with their cross-cultural experiences—not about their children, marriages, early life, and so forth. And understanding other cultures is the focus of the book. In addition, they tell us that stories from the Middle East usually originated with Rich, and those from eastern Asia usually started with Randy.
Where coauthors tell stories from very different life histories, this won't be a feasible solution. But these colleagues make it work.