Tomorrow, January 20, the United States will inaugurate its 46th president, Joe Biden. Given the contentious political year it has been, I thought it appropriate to repost my blog from February 8, 2019, about an important book by Republican Senator Ben Sasse (Nebraska) regarding the non-political reasons for our divides.
Why are Americans so at odds with each other? Why have so many people entrenched themselves in opposing camps, viciously vilifying each other? What has turned us into a nation of Us vs. Them?
Is cable news responsible? Did the Russians do it? Does it go back to Newt Gingrich or the Robert Bork confirmation?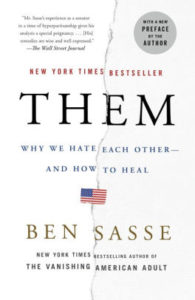 In his book, Them, Senator Ben Sasse has a very unpolitical answer. It's because, he says, we are lonely. We have fewer friends. We are more disconnected from our communities. So we grasp for a group to feel part of, to identify with. More and more that manifests itself in our political and social identities.
Since World War II single-person households have tripled to 26 percent. Technology has also pushed us into self-reinforcing corners where we just don't encounter people as people who might have differing views. Other significant factors are at work as well.
Yes, cable news and radio talk showmen and show women have taken advantage of our situation. And yes, the Russians have fanned the flames too with more than 50,000 Russian-linked Twitter accounts fueling outrage by sending automated messages on both sides of issues. But these only feed on a pre-existing condition.
What's the cure for our illness? The last half of the book offers several worthwhile remedies, from setting tech limits in our personal lives to building into a neighborhood or community to re-educating ourselves on how democracy works and what it stands for.
Sasse regularly says the book is not political in the sense of party politics or hot-button issues. He is right. The book is social and personal. When he does touch on political examples, he is to be commended for being very evenhanded–criticizing and praising as appropriate both right and left, both politicians and journalists, both Republicans and Democrats. Sasse models how we can treat each other as human beings, as fellow Americans who deserve our listening ear and our respect.