Ten years ago today one of the great Christians of our age passed away. Here is what I posted on that day.
John Stott passed away today at the age of ninety. And it is as if a giant oak of the Christian landscape has fallen. As he has faded from public view in the last few years, some may not appreciate the massive effect this strong, humble leader has had. Not only in his native England, but in North America and across the world his beneficial influence was felt. In Heart. Soul. Mind. Strength. Linda Doll and I looked back on his life's work in this way: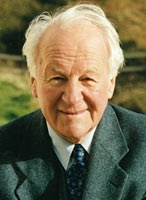 As 2004 concluded and 2005 began, national recognition came in a variety of high-profile ways to the author who had perhaps defined IVP more than any other over the decades. In the November 30 issue of the New York Times, columnist and commentator David Brooks wrote a stunning op-ed piece on how and why John Stott was the person to listen to from the evangelical fold.
He commented, "Falwell and Pat Robertson are held up as spokesmen for evangelicals, which is ridiculous. Meanwhile people like John Stott, who are actually important, get ignored." He went on to say what it is like to encounter Stott's books (no doubt many from IVP).
When you read Stott, you encounter first a tone of voice. Tom Wolfe once noticed that at a certain moment all airline pilots came to speak like Chuck Yeager. The parallel is inexact, but over the years I've heard hundreds of evangelicals who sound like Stott.
It is a voice that is friendly, courteous and natural. It is humble and self-critical, but also confident, joyful and optimistic. Stott's mission is to pierce through all the encrustations and share direct contact with Jesus. Stott says that the central message of the gospel is not the teachings of Jesus, but Jesus himself, the human/divine figure. He is always bringing people back to the concrete reality of Jesus' life and sacrifice.
Shortly afterward, the February 7, 2005, cover story of Time magazine, "The 25 Most Influential Evangelicals in America" also highlighted Stott. He was called quite justifiably "one of the most respected and beloved figures among believers in the U.S. . . . He plunges the rich royalties from his more than 40 unassumingly brilliant books into a fund to educate pastors in the developing word [sic]." (Of course, there is a significant theological difference between the developing word and the developing world. While Time isn't always known for its theological astuteness, we add sic under the assumption that in this case the usage was inadvertent.)
Only two months later in a special issue featuring "The Time 100," Time numbered Stott among the one hundred most influential people in the world. The piece on Stott, written by Billy Graham, noted their friendship that began in 1954, Stott's influence in the Anglican Communion worldwide and his personal humility—his resisting appointment to the position of bishop, the use of his royalties to provide theological books to pastors and scholars in the Two-Thirds World and the simplicity of his living quarters in London's West End. Graham concluded, "I can't think of anyone who has been more effective in introducing so many people to a biblical worldview. He represents a touchstone of authentic biblical scholarship that, in my opinion, has scarcely been paralleled since the days of the 16th century European Reformers."
John Stott was a world Christian before it was fashionable to be a world Christian. On five continents he was known personally and affectionately as Uncle John. Just as he was key to bringing an evangelical renewal to the Church of England, he brought clear, strong teaching and pastoral sensibilities to Latin America, Africa and Asia. Christian leaders all over the world looked to him as their mentor.
The world will miss him.