Propped up on a desk in the front row of the room, thirty-something Mr. James Ryan sat silently surveying my high school English class. I was a junior on the first day of school. The first minute of class. We quieted down waiting to see what he would say. Would he introduce himself? Tell us about class requirements? Have us open a book?
"Are there any questions?" he began.
We were even more silent now. Questions about what? What was he talking about? We were confused. At least I was.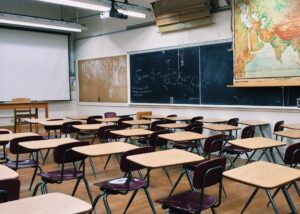 After waiting a moment and hearing nothing, he said, "Ok, then," and with a wry smile that impishly suggested we had had our chance and wasted it, he began.
Many people have had a teacher or coach who had a major impact. Someone who believed in us when we didn't believe in or even know ourselves, someone who made a subject captivating that we previously thought was dull as a spoon. Mr. Ryan would become that teacher for me.
Over fifty years later I still remember things he taught us, ideas and practices that have continued to affect my life as a writer and editor.
Consider vocabulary. He exposed us to a wide range of words each with a nuance of meaning that made literature and writing richer and deeper. Memorizing word lists sometimes seemed tedious. But he showed how word selection matters. It can make a huge difference in the power of a paragraph.
Overwhelm is such a great word, he told us. It is a combination of "over" (as in turn over) and "helm" (as in the tiller of a boat). To be over-helmed, then is to be capsized, to be in danger of drowning. Think about how you might use that word, he urged. Not to talk about a delicious new ice cream flavor or when we missed the latest episode of Batman. Instead, we should use it when our world or our perspective on something important has been turned upside down, when we are at least momentarily out of control.
Tone was another key topic he introduced us to—how a piece of writing works on you at a deep level. More than just the ideas or information, the tone can make a piece powerful, memorable, significant. For fifty years I have tried (not always succeeding) to develop tone in my writing and help authors do the same.
That's where the chapter on tone came from in Write Better. That's where I learned of the magic and weight of words. That's where my lifelong journey into creativity, ideas, and story took hold of me. From Mr. James Ryan.
Who was an influential teacher, coach, or relative in your life?
—
Image by Wokandapix from Pixabay