With the 700th anniversary of the death of Dante this month, I read his Inferno for the first time. Much was as expected, yet I was surprised as well.

I knew that in the book Dante is taken on a tour of hell with the ancient Roman poet Virgil as his guide. The best-known line, "Abandon all hope, ye who enter here," greeted me as it greeted Dante on entering the underworld. There he found descending circles of the damned for such sins as lust, greed, violence, fraud, and betrayal.
Dante was not only a poet but a political figure in Florence around the year 1300. So he achieves a certain measure of revenge while in exile by writing his epic and describing the gruesome punishments of his enemies. He and Virgil also meet other political, financial, and religious notables from that era of Italian history.
What surprised me was that they also encounter not only those from ancient Greek history but also from Greek mythology. At first this seemed to be an odd syncretism, a strange mixture of two religions. On reflection, however, I think this was Dante's attempt to integrate everything into his Christian world view. For him, even pagan myths must submit to the Christian story.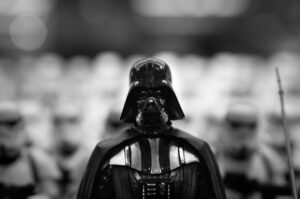 It would be like integrating the Star Wars universe or the world of Harry Potter into a biblical cosmology, where Darth Vader and Dumbledore both find themselves under the sway of a powerful Creator God who nonetheless uses sacrifice to resolve all storylines, reconcile all things, renew hope, and make everything right.
Christian theology, as it should, often sees history in God's hands, how he oversees and guides events for his purposes. We also need to read, see, and hear artists tell stories that show how all the tales of human imagination reflect and bow to the Great Story.
That is a journey for which Dante acts as our guide.
—
Dante image by Gordon Johnson from Pixabay; Darth Vader image by Voltordu from Pixabay