Fifteen years ago Sandy and Jim invited us and three other couples to form a neighborhood book club. We've been meeting ever since.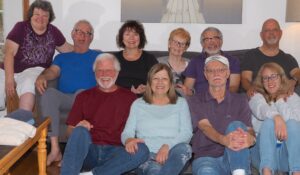 We rotate hosting our get-togethers, with the hosts selecting the book and leading the discussion. Without trying, our books (and occasional movies) have been split almost evenly between fiction and non-fiction. We've enjoyed history, science fiction, mystery, memoir, classics, and current best-sellers.
Some themes have emerged. Several titles have had a Chicago connection, since that's where we live. One person in our group is a chef so food has been a focus for his choices. Some authors we've liked have been repeated (Mary Doria Russell, Erik Larson, Fredrik Backman, Ta-Nehisi Coates).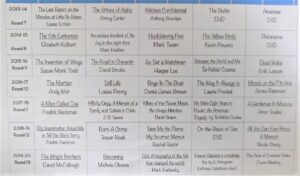 I prefer our system of making selections over voting as a group which can result in choosing everyone's second or third choice. That could also keep the range much more narrow and perhaps less challenging to our own tastes or viewpoints. I enjoy being stretched by the personal selections of my friends.
We see the personalities and interests of each person reflected in their picks. But we are all aware of finding something we think the others could like. As a result we (consciously or unconsciously) don't get too idiosyncratic.
Reading is a wonderfully rich solo activity. It can be even richer in the company of friends.
—
Chart: Some of the books we've selected over the years.
Image credit: James Black