Recently a friend asked an interesting question after reading my blog on writer's block. He wrote:
Andy,
I wonder if I need some writer's block. I don't have a problem with getting started. Rather, as I jokingly tell students, I've never met a word count I couldn't exceed. I am working on my first solo, non-academic book for a Christian audience. In each chapter, I've stuffed in all sorts of things that I think are useful to know about the topic. That is giving me 4000-6000 word chapters, which I'm told is much too long. I need a tool for discerning what pieces I can safely leave out without losing my authorial voice. Any recommendations for that??? Thanks.
Prolific in Pittsburgh
It's a great question. I have met a few other authors with "reverse writer's block." They know they should write less (or have been told to write less by an editor) but can't seem to stop or keep the word count down.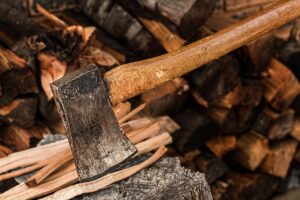 Normally I don't suggest self-editing before we start drafting. That can often shut down our flow. Unless you usually find yourself writing 3,000 words for every 1,000 assigned, it's best to cut afterward. But how? A few things come to mind.
First, expect cutting to be painful. It will hurt because you believe in all your content. Don't think you can do it without some anguish. If you don't feel pain you probably aren't cutting enough. Don't expect to achieve what you want by deleting a word here or there. Whole sentences and paragraphs will have to go. Probably whole sections.
Second, save what you cut in a separate file. Maybe you can use it later for some other purpose. That could ease the pain a bit, knowing that your hard work is not forever banished to a digital netherworld. Remember: You don't have to put everything possible into a piece. You can always write another book or article.
Third, when in doubt, throw it out. If the thought crosses your mind, "I wonder if this should go," that is a likely candidate. Highlight it and everything else you think could be cut. Then see how many words you have left. If you are under the target word count, then you can reinstate some of your gems.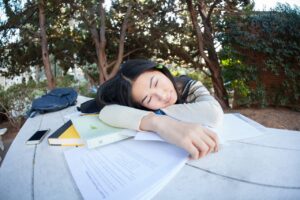 Fourth, in nonfiction you will often have main points. Sometimes you'll have subpoints as well. But if you find you have sub-subpoints, those are likely candidates to ax.
Fifth, get a neutral party or two to give you input on what to cut. It should be people you trust and will listen to. It's not fair to have them spend time reading your draft only to have you ignore most of what they say.
Two kinds of readers can be helpful. One is a person with significant writing or editing experience. Another type is someone in the target audience—your average reader. Have such people mark where their attention lagged or what they skipped over.
Finally, remember that after you make your cuts, your piece will almost always be better. Readers will remember more, and your prose will be stronger. Believe it. It's true.
—
credits: Pixabay stevepb (axe); Pixabay lograstudio (sleeping)