We often consider unbelief and doubt to be enemies of faith. After all, if we perpetually embrace them, we never embrace God. But a very different response can also be the enemy—certainty.
As Tobias Wolf said, "Certainty is one of the greatest spiritual problems of our time."* When we are absolutely sure of what we believe, we may inadvertently cut God out of the equation. We rest instead on ideas, statements, propositions, logic, argumentation, and viewpoints which we think stand on their own as universal truths.
The Christian faith is full of things we do not know, however. Though we believe in the Trinity we have very little understanding of how Three can be One and One Three. We know Jesus died for our sins but exactly how faith and grace work together in the cross is something we cannot entirely know. The Bible is very sketchy on the character of heaven or hell. And as to how the universe came to be? Well, God did it but a few details seem to be missing.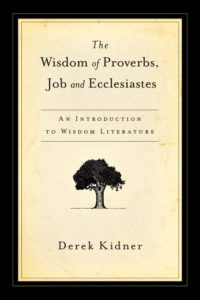 Mystery is everywhere in Christianity. The Bible is God's Word but also written by humans. Jesus is fully human and fully divine. The more we try to remove the mystery, put everything in a neat and tidy system, the more we may fight against faith. God wants us to rely on him, not on our convictions.
It's no coincidence that the certainty of Proverbs is immediately followed by the uncertainty of Ecclesiastes. And not just because so much of both are attributed to Solomon. God gives wisdom, yes, but we don't have it all. "No one can comprehend what goes on under the sun. Despite all their efforts to search it out, no one can discover its meaning. Even if the wise claim they know, they cannot really comprehend it" (Eccl 8:17).
Certainty can engender pride and arrogance. When we are certain, we have no appreciation for human limitations. It means we have little to learn, maybe nothing even from God.
Lack of certainty is an underappreciated virtue which can make room for faith, humility, and love of others.
*Calvin Festival of Faith and Writing, April 2016.